Motorola Solutions Promotions
Schools like yours are constantly being pressed to increase safety and efficiency with an ever-shrinking budget. Now, you can help to improve both for fewer dollars.
From April 1 through June 30, 2019, your school can take advantage of special savings on Motorola Solutions' reliable radio communications solutions that excel at helping to keep students and staff safer, tracking bus fleets accurately, and improving efficiency. When you equip your staff and bus fleet with our digital communications solutions, your team can connect directly to each other, wherever they travel, and can contact first responders instantly should an emergency arise.
Powerful Financing Options
We can also help you finance your purchase of our radios and systems with competitive offers of 0% financing for 12 months or 6.67% financing for 60 months ("Financing Offer").
Earn Cash Back And Additional Discounts
CP200d Series
The CP200d radio connects your workforce efficiently and has the flexibility to grow with your school. By combining the best of two-way radio functionality with the latest analog and digital technology, the CP200d is perfect for the everyday user who wants to stay connected. It is fully compatible with the MOTOTRBO family of radios and has exceptional audio quality, outstanding coverage, long-lasting battery life and more.
YOUR REBATE: $15. Volume Discount: Buy 10 CP200d radios and get an additional $350 discount when you trade-in 10 eligible units
EVX-261 Series
Make the move to digital easily and affordably. The EVX-261 operates in both analog and digital modes, so it's ideal for use with mixed fleets. You can choose from multiple signaling options, including MDC1200®, DTMF, and 2-tone or 5-tone capabilities, along with voice inversion encryption. And in digital mode, you'll enjoy noise cancellation for crisp audio and clear conversations.
YOUR REBATE: $10. Volume Discount: Buy 10 EVX-261 Series radios and get an additional $200 discount when you trade-in 10 eligible units
XPR 3000e
The XPR 3000e Series radios deliver analog and digital voice capabilities, with support for basic systems and a feature-set geared to maximum workplace efficiency – including Wi-Fi for remote radio management
YOUR REBATE: $25.
SL300
The SL300 is boldly designed to keep you efficiently connected. Measuring under an inch thick, the SL300 is ultra-portable with a stubby antenna, curved edges and rugged frame. It features an Active View display with a matrix of LED lights behind the radio housing, along with "Range Max" technology, an advanced radio design and patented antenna for enhanced range.
YOUR REBATE: $12.
Rebates Made Simple
Contact Us: Your Local Authorized Motorola Solutions Channel Partner
Let us guide you on the right solutions. They will take into consideration your users, applications and core requirements as well as your upfront and ongoing cost of ownership.
Purchase A Qualified Product
Regardless of which qualifying product you select, you can be sure you'll be equipped for everyday operations and emergencies.
Submit Your Rebate Claim
Register for your rebate by completing the online claim form at https://www.myradiorebate.com/ up to 30 days after receiving your invoice.
* Savings will vary depending on the type and number of radios purchased.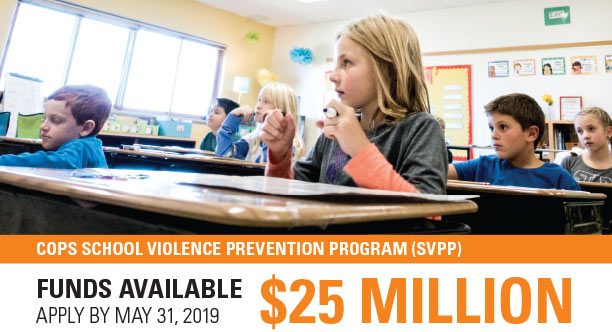 GRANT HIGHLIGHTS
The COPS Office STOP School Violence Prevention Program (SVPP) is a competitive award program designed to provide funding to improve security at schools and on school grounds through evidencebased school safety programs. SVPP funding is available for the following purpose areas:
Coordination with local law enforcement.
Training for local law enforcement officers to prevent student violence against others and self.
Placement and use of metal detectors, locks, lighting, and other deterrent measures.
Acquisition and installation of technology for expedited notification of local law enforcement during an emergency.
Any other measure that, in the determination of the COPS Office, may provide a significant improvement in security.
The COPS Office anticipates making 60 SVPP awards totaling $25 million, with funding requests capped at $500,000 per award. There is a two-year award period. Applicants are required to contribute a local cash match of at least 25 percent toward the total cost of the approved project during the award period.
Applicants are strongly encouraged to demonstrate a comprehensive approach to school safety. Consultation with law enforcement prior to preparing an application is recommended for this purpose.
WHO CAN APPLY
All States, units of local government, Indian tribes, and public agencies (police departments, sheriff's departments, school districts, etc.) are eligible to apply. Grant recipients may use funds to contract with or make sub-awards to local educational agencies, nonprofit organizations (excluding schools), units of local government or tribal organizations. Schools are defined as elementary or secondary schools.
APPLICATION DEADLINE
Applications must be submitted by May 31, 2019, at 7:59 p.m. EDT