Utilities Solutions

Keep Service Levels High With Real-Time Voice And Data
Utilities face a complex balancing act. You must meet growing consumer demand, comply with regulatory requirements, while simultaneously controlling costs. How can you be more responsive to customers, prepare for emergencies and disasters, keep track of assets and ensure safety isn't compromised?
Next-generation communications adapted for your needs can help your operation respond rapidly, manage assets efficiently and ensure safety is a constant – in the field, at the plant, for the community.
Emergency Preparedness And Disaster Response In The Field
Enhance Safety In Harsh Environments And Dispersed Sites
Utilities are critical infrastructure, and are key to enabling disaster response. Technicians must make sure electric and gas lines are secured before first responders step in, and restoring power is a race against the clock to maintain order and empower emergency response. Our solutions are adapted for your needs. You can connect mobile crews and assets to help respond quickly, manage power delivery effectively, achieve regulatory compliance, and bring your community safety back on the grid.
Ensuring Plant Safety And Empowering Productivity In Fossil Fuel Plants
Work Smarter, Safer, And More Efficiently.
With tighter schedules, longer shifts and a heightened emphasis on safety, your operation needs to be constantly efficient and productive To keep up and keep ahead, your workforce must have reliable, easy-to-use communications adapted to your needs which will increase efficiency and productivity, improve plant safety, support long work shifts and respond rapidly to incidents.
Help Your Crews Work Better And Faster, Together
When power lines are down from a fast-moving storm, your customers expect a certain level of performance. They want timely response and quick resolutions.
How do you meet their expectations and manage an extensive field force? With a system that provides instant dispatch and reliable communication, no matter where they go. One so efficient and easy to use it can improve worker safety, reduce operating costs and improve customer service.
Solutions
MOTOTRBO
Discover What MOTOTRBO Can Do Throughout Your Enterprise
Two-way radios are the go-to technology for enterprises around the world – connecting people wherever they need clear, instant and reliable communications. MOTOTRBO offers a portfolio of analog and digital two-way radios that enable voice and data communications. It combines the best of two-way radio functionality with the latest digital technology for instant communicating, easy decision-making and seamless coordinating.
Enhance Safety And Reliability In The Field
A MOTOTRBO digital two-way radio system keeps facility management and workers as well as workers in the field connected in real-time to ensure the safety and security of employees and to drive operational efficiency throughout plant and field operations.
The Benefits of MOTOTRBO for Today's Utilities:
Instant private and secure communications with enhanced or basic privacy options.
Tracking of vehicles, personnel and assets.
Increased workforce productivity and efficiency.
Reduced unplanned downtime.
Employee and facility safety and security.
Minimized risk and legal exposure.
Improved customer satisfaction.
DMR (MOTOTRBO) RADIOS
Intelligent Radio For The Smart, Connected World.
The MOTOTRBO two-way radio portfolio offers you a wide choice of devices, from simple voice-only models to feature-rich voice and data radios. All work together seamlessly to deliver advanced features to enhance your safety, productivity and efficiency. With exceptional voice quality and outstanding usability, MOTOTRBO keeps your workforce connected.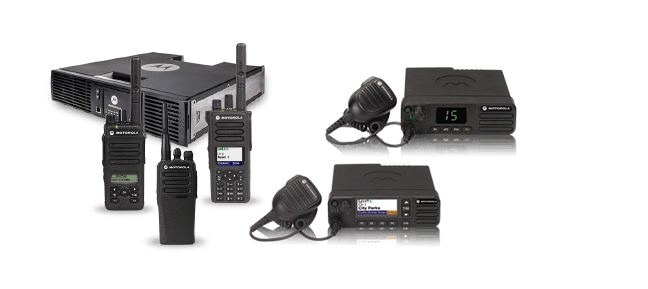 Next-Generation Radios
The dramatic enhancements to the MOTOTRBO portfolio deliver the audio quality, coverage, battery life and built-in intelligence that allows users to work confidently and safely.
Enhancements
Safety. Efficiency. Productivity.
Next-generation MOTOTRBO™ radios feature longer battery life, indoor location-tracking and integrated Wi-Fi allowing all radios in a system to be reprogrammed simultaneously without taking them out of users' hands.
MOTOTRBO Systems
Systems Specifically Designed For Your Business

No matter how large or small your enterprise, MOTOTRBO offers a wide range of systems specifically designed for your business – for the days ahead and the years beyond. You get the best of two-way radio with digital technology and enjoy integrated voice and data communication, increased capacity, enhanced features and exceptional voice quality, across the city and around the globe.
Direct Mode & Conventional
Baseline Single Site Coverage and Capacity
IP Site Connect
Cost-Effective Coverage for Multiple Sites
Capacity Plus
Cost-Effective Coverage and Capacity for Single And Multiple Sites
Capacity Max
Coverage, Capacity and Control for Single and Multiple Sites
Connect Plus
Exceptional Coverage for Single and Multiple Sites
Read more about MOTOTRBO Systems
MOTOTRBO Applications
Increase The Level Of Efficiency, Safety And Productivity Throughout Your Enterprise

MOTOTRBO applications enhance efficiency and accountability for your workers. Fleet management applications allow you to track vehicle data such as current location and current speed, and get alerts when a vehicle reaches a certain waypoint. You can also track events such as engine on/off, door open/close, lights on/off and bucket lift up/down. Work order ticketing applications allow you to dispatch your workers more efficiently. Text-based work tickets reduce errors, and can be used to improve accountability. Personnel safety applications watch over your workers, with products such as Man Down and Lone Worker.
Voice Dispatch
Giving you centralized control of your workforce, these applications offer customizable user interfaces to allow your dispatcher to coordinate your staff efficiently and effectively. They also enhance business connectivity by allowing telephony interconnections and multi-system patching.
Work Ticket Management
These applications enhance efficiency and accountability in the workplace using text-based issue management software. They can be integrated with your existing work-order management solution or can be operated as an independent system.
Location
Track your vehicles and your staff for improved safety, security and accountability. These applications allow you to make the most of MOTOTRBO's GPS capabilities, and some even offer indoor location tracking capabilities.
Personnel Safety
Increase the safety and accountability of your staff by deploying these applications. Features such as Man Down and Lone Worker can be linked to indoor and outdoor location services for maximum effectiveness.
System Monitoring
To get the best from your MOTOTRBO system, you need to know how it's performing. These applications give you a dashboard view of key metrics and parameters, with detailed logs helping you plan future growth and upgrades.
Learn more about MOTOTRBO Applications
MOTOTRBO Accessories
The Power Of Your Radio Unleashed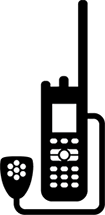 MOTOTRBO radios are already best in class, but to help you work at your best, you need enhancements targeted to your specific workplace. Motorola developed a line of accessories with unique features designed to optimize the performance of your radio in your work environment, unleashing the full power of the industry's most advanced digital radio platform. From discreet Bluetooth earpieces to efficient battery solutions, Motorola's complete portfolio of accessories optimizes the performance of your MOTOTRBO radio. They are designed to help you perform your best, wherever you work, and unleash the power of the industry's most advanced digital radio platform.
Earpieces
Headsets
Bluetooth® Wireless for Portable and Mobile Radios
Batteries and Chargers
Remote Speaker Microphones
Mobile Radio Microphones
Carry Solutions
Installation and Mounting Kits
Learn more about MOTOTRBO Accessories
WAVE Interoperable Push-To-Talk Platform
Push-To-Talk Between All Your Devices and Networks
WAVE connects your disparate networks such as radio, cellular, Wi-Fi, telephony and more so you can communicate between them. Whether on a smartphone, radio, computer, landline or any other communications device, your personnel can connect instantly via PTT.
EVERY DEVICE. EVERY NETWORK. EVERY TEAM. CONNECTED LIKE NEVER BEFORE.
Connect Your Networks
Connect disparate land mobile radio systems and remove barriers to interoperability and mutual aid. With WAVE, you can communicate with key work partners whether or not they are on a Motorola radio system for better real-time coordination and response.
Extend Your Communications
Extend communications beyond radio to include broadband devices and networks, ensuring greater workforce connectivity and interoperability. WAVE connects your smartphones, computers, radios and more onto a single platform so you can freely communicate and collaborate on the device that suits you best, from virtually any location.
Embrace Broadband
Secure, over-the-top PTT on public or private broadband networks provides greater device, network and use-case flexibility. All your teams can connect instantly on the broadband devices they're already using, plus WAVE offers the ability to integrate with other networks when needed.
The New Voice Of The Enterprise: Broadband Push-To-Talk
The revolution is being push-to-talked about. Today, virtually everyone can benefit from push-to-talk (PTT) across their organization.
Download the White Paper
Stay Connected For A Safer, More Efficient Workforce
Whether you're a supervisor on the road or a director at a conference, WAVE's smartphone app keeps you connected to your workforce. Seamless information flow across grid and plant operations results in faster customer service and safer operations.
Use Your Current Devices For A Better Bottom Line
Turn your desktops, laptops and smartphones into push-to-talk devices to increase your communications abilities without increasing costs. Remote knowledge workers can use the computers and smart devices already in place to communicate directly with the plant personnel using WAVE. By leveraging the existing device and networks you already have in place, you maximize the value of your investments and improve your bottom line.
Raise Safety And Service While Lowering Costs With Mission Critical Communications Solutions
Download the White Paper
The Best System For The Worst Occasions
When all else fails, your communications can't. WAVE allows you to leverage all of your available networks, whether broadband or radio, increasing redundancy. With WAVE's interoperable platform you can connect all of your work partners onto a single system to communicate and collaborate more efficiently.
Learn How Utilities Customers Are Using WAVE
Connexus Energy elevates safety, productivity and customer service using WAVE broadband push-to-talk to extend its MOTOTRBO network to computers, smartphones and tablets. 
Contact Us for a Free Trial or More Information on How Our Solutions Can Improve Service Throughout Your Service Area.
Downloads
Application Briefs/Fact Sheets
Brochures and Spec Sheets
MOTOTRBO
MOTOTRBO Accessories
WAVE Work Group Communications
Case Studies
Presentations
Videos
White Papers
MOTOTRBO
WAVE Work Group Communications