Transportation Solutions

Meet Expectations Of Right Here, Right Now
Customers want on-time shipments to be an all-the-time reality. Deliveries must arrive at the moment they're desired. In our need-it-now economy, enterprises and consumers share these expectations of perfection. Getting the right delivery to the right place at the right time requires well-orchestrated technology and well-executed logistics.
According to Gartner, transportation and logistics companies must focus on innovation to sharpen their competitive edge. Rather than reducing costs, they should invest in new processes and technologies to differentiate themselves in the marketplace.
Connect Drivers Safely To Make Tight Deadlines
Delivery and logistics companies face enormous challenges in this globally-connected world. You need to guarantee reliable on-time delivery of shipments to customers without costly disruptions. Your fleets are relied upon to meet ambitious deadlines, yet distracting communication technologies put your driver's safety at risk. Cell phone distractions alone caused 600,000 crashes, 330,000 injuries and 3,000 deaths in 2014.
The pressure for fleets to perform is non-stop. Whether parts must arrive at a warehouse or a rush order has to arrive in time, expectations are greater, margins are tighter and costs are higher. Average warehousing and transportation costs eat up 2.3 to 4.6 percent of sales in the consumer products industry alone.
United States Distracted Driver Law

Solutions
MOTOTRBO
Discover What MOTOTRBO Can Do Throughout Your Enterprise
Two-way radios are the go-to technology for enterprises around the world – connecting people wherever they need clear, instant and reliable communications. MOTOTRBO offers a portfolio of analog and digital two-way radios that enable voice and data communications. It combines the best of two-way radio functionality with the latest digital technology for instant communicating, easy decision-making and seamless coordinating.
Interact Safely And Productively In The Field With MOTOTRBO™ XPR Digital Radios
Motorola understands the realities of logistics and delivery, and constantly innovates communication solutions that respond to your challenges. The clear, reliable audio and advanced data capabilities of our MOTOTRBO XPR Series keep your personnel productive and safely connected over a wider area, on the road or in the warehouse, without interference or distracting static.
Personnel and fleet tracking applications help you keep track of people and locations. You can receive status updates with real-time data applications and be instantly alerted to unresponsive workers. And if an emergency occurs, priority voice and data communications will get through with the Digital Emergency and Transmit Interrupt features on XPR Series radios.
Hands-free accessories with integrated Bluetooth® let your vehicle operators communicate without distractions or wires in the way. The long range wireless mobile microphone enables them to step away from the vehicle up to 100 meters (328 feet) and stay connected.
Control Processes And Costs More Efficiently On A MOTOTRBO Digital Radio System
MOTOTRBO is the flexible communication solution that includes two-way digital radios, accessories, applications, systems and support services. MOTOTRBO connects personnel to help your operation increase safety, accelerate deliveries, automate processes, better manage risks and costs, and respond to customers quickly. By seamlessly integrating voice and data into a single cost-effective solution, your personnel can collaborate more efficiently wherever they work. All while protecting their safety and enhancing overall productivity.
Operations-critical data applications, such as Work Order Ticket Management, track orders, confirm deliveries and keep tabs on workflows to pinpoint opportunities where you can streamline processes. Key features like over-the-air programing and battery management help ensure radios work overtime and don't sit in the shop. And with privacy options and remote disable, you know communications and information are secure.
Gain Greater Visibility And Real-Time Agility From A Robust Application Ecosystem
Your customers not only expect on-time deliveries, they want visibility of cargo in transit and the flexibility to make changes to shipments. In fact, 78 percent of buyers want to track and trace purchased products regardless of channel or delivery option.
Dispatch and fleet management applications integrate voice and data to give you an accurate, up-to-the-moment view of your assets. You can track vehicle data, such as location and speed, to ensure route adherence and delivery agility. Monitor fuel consumption, ignition status and perform on-board diagnostics for proactive vehicle maintenance to make sure your fleet is always ready to deliver. Voice and data applications can provide you with these valuable insights to help you deliver on your promise to the customer.
Learn How Transporation Companies Are Using MOTOTRBO
MOTOTRBO Integrates It All So You Move Ahead

Sales Rep
A rush order comes in from a sales rep on-site with a customer. With the WAVE Work Group Communications application, the sales rep immediately connects with a supervisor in the warehouse.
Supervisor
The supervisor then alerts a worker to the required part on his XPR 7550e portable radio.
Delivery Driver
The part is loaded onto a delivery truck and the XPR 5000e mobile radio receives a Work Order Ticket.
Dispatcher
The dispatcher views GPS Outdoor Location and Fleet Management information to monitor route adherence, speed and fuel consumption. Seeing traffic congestion on the road, the dispatcher sends a text to the driver with an alternate route.
Delivery Driver
The driver stays safely focused on the road as text-to-speech reads aloud the route change.
Delivery Driver
He confirms by voice using the steering wheel PTT switch and visor mic connected to his mobile radio via Bluetooth, and the dispatcher receives the confirmation through the MIP 5000 Radio Console.
Sales Rep
The sales rep stays in contact with the driver and dispatcher until the part is successfully delivered using the WAVE application on her smartphone.
DMR (MOTOTRBO) RADIOS
Intelligent Radio For The Smart, Connected World.
The MOTOTRBO two-way radio portfolio offers you a wide choice of devices, from simple voice-only models to feature-rich voice and data radios. All work together seamlessly to deliver advanced features to enhance your safety, productivity and efficiency. With exceptional voice quality and outstanding usability, MOTOTRBO keeps your workforce connected.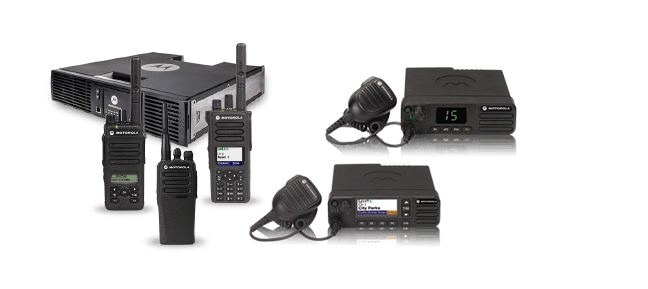 Next-Generation Radios
The dramatic enhancements to the MOTOTRBO portfolio deliver the audio quality, coverage, battery life and built-in intelligence that allows users to work confidently and safely.
Enhancements
Safety. Efficiency. Productivity.
Next-generation MOTOTRBO™ radios feature longer battery life, indoor location-tracking and integrated Wi-Fi allowing all radios in a system to be reprogrammed simultaneously without taking them out of users' hands.
MOTOTRBO Systems
Systems Specifically Designed For Your Business

No matter how large or small your enterprise, MOTOTRBO offers a wide range of systems specifically designed for your business – for the days ahead and the years beyond. You get the best of two-way radio with digital technology and enjoy integrated voice and data communication, increased capacity, enhanced features and exceptional voice quality, across the city and around the globe.
Capacity Plus
Cost-Effective Coverage and Capacity for Single And Multiple Sites
Capacity Max
Coverage, Capacity and Control for Single and Multiple Sites
Connect Plus
Exceptional Coverage for Single and Multiple Sites
Read more about MOTOTRBO Systems
MOTOTRBO Applications
Increase The Level Of Efficiency, Safety And Productivity Throughout Your Enterprise

MOTOTRBO applications offer improved productivity for transportation businesses. Fleet management applications allow you to track vehicle data such as current location and current speed. For transit applications, you can also track route and schedule adherence, and get alerts when a vehicle reaches a certain waypoint. You can also track events such as engine on/off, door open/close and lights on/off, and log drivers on and off shift. This can help you guard against unauthorized deliveries. You can also connect your delivery tracking system over MOTOTRBO, using radio-attached barcode or RFID scanners.
Voice Dispatch
Giving you centralized control of your workforce, these applications offer customizable user interfaces to allow your dispatcher to coordinate your staff efficiently and effectively. They also enhance business connectivity by allowing telephony interconnections and multi-system patching.
Command and Control
These applications work behind the scenes of your MOTOTRBO network to enhance the efficiency and responsiveness of your system. Interfacing to a Work Order Ticketing system, managing alarms and telemetry, and connecting to other messaging systems, they bring significant benefits to your school.
Location
Track your vehicles and your staff for improved safety, security and accountability. These applications allow you to make the most of MOTOTRBO's GPS capabilities, and some even offer indoor location tracking capabilities.
SYSTEM MONITORING
To get the best from your MOTOTRBO system, you need to know how it's performing. These applications give you a dashboard view of key metrics and parameters, with detailed logs helping you plan future growth and upgrades.
Learn more about MOTOTRBO Applications
MOTOTRBO Accessories
The Power Of Your Radio Unleashed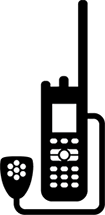 MOTOTRBO radios are already best in class, but to help you work at your best, you need enhancements targeted to your specific workplace. Motorola developed a line of accessories with unique features designed to optimize the performance of your radio in your work environment, unleashing the full power of the industry's most advanced digital radio platform. From discreet Bluetooth earpieces to efficient battery solutions, Motorola's complete portfolio of accessories optimizes the performance of your MOTOTRBO radio. They are designed to help you perform your best, wherever you work, and unleash the power of the industry's most advanced digital radio platform.
Earpieces
Headsets
Bluetooth® Wireless for Portable and Mobile Radios
Batteries and Chargers
Remote Speaker Microphones
Mobile Radio Microphones
Carry Solutions
Installation and Mounting Kits
Learn more about MOTOTBO Accessories
WAVE Interoperable Push-To-Talk Platform
Push-To-Talk Between All Your Devices And Networks
WAVE connects your disparate networks such as radio, cellular, Wi-Fi, telephony and more so you can communicate between them. Whether on a smartphone, radio, computer, landline or any other communications device, your personnel can connect instantly via PTT.
EVERY DEVICE. EVERY NETWORK. EVERY TEAM. CONNECTED LIKE NEVER BEFORE.
Stay Connected For Optimized Fleet Management
With increasing demand for faster, more on-time service, WAVE connects your entire workforce to a single communications platform. Notify personnel of last-minute delivery changes or alerts by maintaining radio communications, even outside your radio network. Whether on the road, in the air, or in an office, WAVE provides a unified communication platform between radio and broadband networks to enhance service levels inside and outside of your organization by ensuring that operations are on time and efficient.
Increase Asset Visibility
Use WAVE integrated voice and data for visibility into what your mobile workforce is doing and where they are. Real-time location mapping gives you immediate access to critical data for improved decision making.
Increase Safety, Efficiency And Customer Satisfaction With Integrated Communication Solutions
Download the White Paper
More Efficient Operations For A Better Bottom Line
Turn your desktops, laptops and smartphones into push-to-talk devices to increase your communications capabilities while minimizing costs. Many employees who do not carry radios would still gain value from connecting to your radio system. WAVE bridges the gap for these users, connecting the devices they already use to your network to ensure that operations are on time and efficient.
Connect Your Networks
Connect disparate land mobile radio systems and remove barriers to interoperability and mutual aid. With WAVE, you can communicate with key work partners whether or not they are on a Motorola radio system for better real-time coordination and response.
Extend Your Communications
Extend communications beyond radio to include broadband devices and networks, ensuring greater workforce connectivity and interoperability. WAVE connects your smartphones, computers, radios and more onto a single platform so you can freely communicate and collaborate on the device that suits you best, from virtually any location.
Embrace Broadband
Secure, over-the-top PTT on public or private broadband networks provides greater device, network and use-case flexibility. All your teams can connect instantly on the broadband devices they're already using, plus WAVE offers the ability to integrate with other networks when needed.
The New Voice Of The Enterprise: Broadband Push-To-Talk
The revolution is being push-to-talked about. Today, virtually everyone can benefit from push-to-talk (PTT) across their organization.
Download the White Paper
Delivery And Logistics Trust Motorola To Transform Operations
Across the city and around the continent, in the office or on the road, Motorola Solutions is helping you operate safer, work more productively and deliver more efficiently to meet deadlines and exceed expectations.
Enterprises worldwide are transforming their workplace with the MOTOTRBO digital platform and expertly-integrated systems, applications, accessories and services. Connect different people, fleets and locations together to streamline operations, keep your workers safe, control costs and drive your business further.
Contact Us for a Free Trial or More Information on How Our Solutions Can Help Make Every Route as Efficient and Productive as Possible.
Downloads
Application Briefs/Fact Sheets
Brochures and Spec Sheets
MOTOTRBO
MOTOTRBO Accessories
WAVE Work Group Communications
Case Studies
eBook
Presentations
Videos
White Papers
MOTOTRBO
WAVE Work Group Communications