Construction Solutions

Contact Mobile Workers Periodically to Monitor Their Safety When They Are Completing Hazardous Tasks
MOTOTRBO™ Builds New Levels of Productivity for Contractors
You know the challenges. You need to maximize productivity to stay competitive. But it can be difficult. Real-world job sites bring hard knocks, dust, dirt, water, hazardous materials and temperature extremes - and plenty of noise. Safety is essential and you need the fastest, most effective response if there's an incident. Powered by advanced Motorola technology, the MOTOTRBO Professional Digital Two-Way Radio System is ready to help you respond to those challenges with enhanced productivity.
Ready For Hard Work and Long Shifts
MOTOTRBO's portable radios are intrinsically safe and can be used in locations where flammable gas, vapors, or combustible dust may be present since they meet U.S. Military Standards including submersibility in water. Employees working long hours? No problem. MOTOTRBO radios work overtime, too, with battery life that's up to 40% longer than that of traditional analog radios.
Versatile Communication You Can Count On
To help your employees communicate when operating in noisy environments, MOTOTRBO provides digital noise suppression and audio that stays clear throughout the coverage area. That means easier communication and fewer misunderstandings. Since it was designed to allow you to flexibly communicate either with an individual, sub-group of radios or all radios in the system, nobody will be distracted hearing messages intended for others. Moreover, MOTOTRBO supports new digital apps, including text messaging, an alternative way to get a message through when noise prevents voice communication or when employees can't safely answer a call. And if you operate vehicles, GPS-based Location Services can simplify and streamline your fleet management.
A Complete, Flexible, Highly Capable System
MOTOTRBO brings you a private, standards-based, cost-effective solution that can be tailored to meet your unique coverage and feature needs with the flexibility that a complete conventional system offers portables, mobiles, repeaters, applications, accessories and services.
Solutions
MOTOTRBO Digital Communications
Optimize Production With Seamless Collaboration
The backbone of integrated plant communications is the MOTOTRBO digital two-way radio platform. This complete, flexible and adaptable solution includes two-way digital radios, accessories, applications, systems and support services. MOTOTRBO interconnects personnel and equipment to help plants streamline production, automate processes, manage risk and respond to customers quickly.
MOTOTRBO seamlessly integrates voice, data, text messaging and GPS to help resolve equipment issues and reduce unplanned downtime faster. Employees communicate and collaborate more efficiently and effectively, wherever they work. All while protecting their safety and enhancing overall productivity.
DMR (MOTOTRBO) Radios
Intelligent Radio For The Smart, Connected World
The MOTOTRBO two-way radio portfolio offers you a wide choice of devices, from simple voice-only models to feature-rich voice and data radios. All work together seamlessly to deliver advanced features to enhance your safety, productivity and efficiency. With exceptional voice quality and outstanding usability, MOTOTRBO keeps your workforce connected.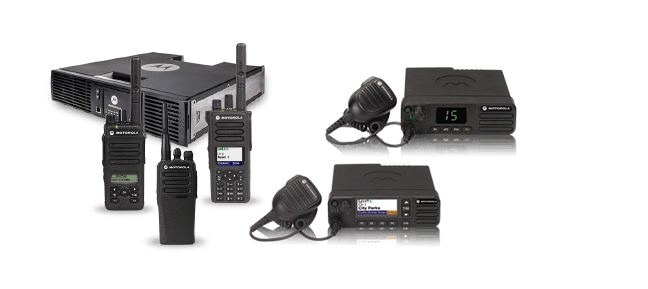 Next-generation Radios
The dramatic enhancements to the MOTOTRBO portfolio deliver the audio quality, coverage, battery life and built-in intelligence that allows users to work confidently and safely.
Enhancements
Safety. Efficiency. Productivity.
Next-generation MOTOTRBO™ radios feature longer battery life, indoor location-tracking and integrated Wi-Fi allowing all radios in a system to be reprogrammed simultaneously without taking them out of users' hands.
MOTOTRBO Systems
Systems Specifically Designed For Your Business

No matter how large or small your enterprise, MOTOTRBO offers a wide range of systems specifically designed for your business – for the days ahead and the years beyond. You get the best of two-way radio with digital technology and enjoy integrated voice and data communication, increased capacity, enhanced features and exceptional voice quality, across the city and around the globe.
Direct Mode & Conventional
Baseline Single Site Coverage and Capacity
IP Site Connect
Cost-Effective Coverage for Multiple Sites
Capacity Plus
Cost-Effective Coverage and Capacity for Single And Multiple Sites
Capacity Max
Coverage, Capacity and Control for Single and Multiple Sites
Connect Plus
Exceptional Coverage for Single and Multiple Sites
Read more about MOTOTRBO Systems
MOTOTRBO Applications
Increase The Level Of Efficiency, Safety And Productivity Throughout Your Enterprise

MOTOTRBO applications offer improved safety, accountability and productivity in a manufacturing environment. Work Ticket Management applications allow you to connect directly to your machines, automatically dispatching the right technician in response to failures. Technicians can also use their radios to send commands to equipment directly: opening gates, turning on lights and starting machines. Job ticketing gives you productivity and accountability improvements: using text-based dispatch reduces errors and allows timely escalation.
Voice Dispatch
Giving you centralized control of your workforce, these applications offer customizable user interfaces to allow your dispatcher to coordinate your staff efficiently and effectively. They also enhance business connectivity by allowing telephony interconnections and multi-system patching.
Work Ticket Management
These applications enhance efficiency and accountability in the workplace using text-based issue management software. They can be integrated with your existing work-order management solution or can be operated as an independent system.
Personnel Safety
Increase the safety and accountability of your staff by deploying these applications. Features such as Man Down and Lone Worker can be linked to indoor and outdoor location services for maximum effectiveness.
Learn more about MOTOTRBO Applications
MOTOTRBO Accessories
The Power Of Your Radio Unleashed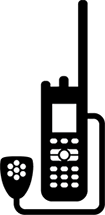 MOTOTRBO radios are already best in class, but to help you work at your best, you need enhancements targeted to your specific workplace. Motorola developed a line of accessories with unique features designed to optimize the performance of your radio in your work environment, unleashing the full power of the industry's most advanced digital radio platform. From discreet Bluetooth earpieces to efficient battery solutions, Motorola's complete portfolio of accessories optimizes the performance of your MOTOTRBO radio. They are designed to help you perform your best, wherever you work, and unleash the power of the industry's most advanced digital radio platform.
Earpieces
Headsets
Bluetooth® Wireless for Portable and Mobile Radios
Batteries and Chargers
Remote Speaker Microphones
Mobile Radio Microphones
Carry Solutions
Installation and Mounting Kits
Learn more about MOTOTRBO Accessories
WAVE™ Work Group Communications
Connect Any Worker On Any Device, Anywhere
Leverage the resources you already have to communicate with employees on their own devices. WAVE extends your radio's reach to those who may not carry radios. Now, the IT director at a convention or the supervisor away from the plant can talk on their smart phones with radio users at the plant.
WAVE connects to virtually any device – smart phones, laptops, tablets, and landlines – on any public or private mobile data network, including Wi-Fi. You get seamless and secure connectivity, affordable push-to-talk, and the freedom to keep service plans and devices.
EVERY DEVICE. EVERY NETWORK. EVERY TEAM. CONNECTED LIKE NEVER BEFORE.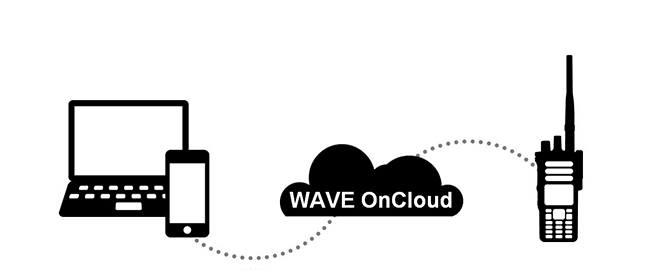 Connect Your Networks
Connect disparate land mobile radio systems and remove barriers to interoperability and mutual aid. With WAVE, you can communicate with key work partners whether or not they are on a Motorola radio system for better real-time coordination and response.
Extend Your Communications
Extend communications beyond radio to include broadband devices and networks, ensuring greater workforce connectivity and interoperability. WAVE connects your smartphones, computers, radios and more onto a single platform so you can freely communicate and collaborate on the device that suits you best, from virtually any location.
Embrace Broadband
Secure, over-the-top PTT on public or private broadband networks provides greater device, network and use-case flexibility. All your teams can connect instantly on the broadband devices they're already using, plus WAVE offers the ability to integrate with other networks when needed.
The New Voice Of The Enterprise: Broadband Push-To-Talk
The revolution is being push-to-talked about. Today, virtually everyone can benefit from push-to-talk (PTT) across their organization.
Download the White Paper
Downloads
Brochures and Spec Sheets
MOTOTRBO
MOTOTRBO Accessories
WAVE Work Group Communications
Presentations
Videos
White Papers
MOTOTRBO
WAVE Work Group Communications