Oil and Gas Solutions

Mobilize Real-time Information Seamlessly Across Your Operation
Connect Personnel More Safely And Efficiently In Hazardous Environments
Oil and gas companies are feeling the heat of safety mandates and production goals. They must fuel rising demand by extracting more in remote locations and hazardous environments. Their workers have to be protected as they contend with extreme temperatures and challenging conditions. And critical infrastructure needs to be secure from the increasing threat of cyber attacks and domestic terrorism.
The reality is, operations are being pressed to increase productivity, prepare for emergencies and disasters, comply with changing regulations and secure their assets. All while maintaining the highest levels of safety for their workforce.
Improve Safety In Petrochemical Operations
To improve safety and productivity, voice and data communications should flow seamlessly between work teams and equipment. Whether personnel are on shore or at sea, in remote locations or at the refinery, they have to connect instantly and collaborate in real time.
Many crews operate in locations with extremely high decibel noise. Two-way radios that deliver loud, clear audio and significantly reduce background noise are critical to ensuring the message gets through the first time, even in noisy environments. Because of ignition risks in these environments, two-way radios and accessories must be purpose-built to be fail-safe and meet or exceed globally recognized hazardous standards such as FM, UL, CSA, ATEX and IECEx.
Motorola's two-way radio systems streamline voice and data to increase productivity and advance safety. With better information, your personnel can make better decisions and achieve better outcomes. Our in-depth portfolio provides critical communications for customers worldwide. Reliable, resilient, and secure, they perform exactly when it matters – in everyday operations and unthinkable disasters.
Achieve Greater Safety, Intelligent Production And Asset Security
In our energy-hungry world, the need for oil is at an all-time high. Global consumption is up, with oil and gas comprising 57% of resources used. Finding new oil is getting more expensive and involves extreme exploration. How can you meet the challenge safely while still staying competitive?
Because your team uses next-generation communication solutions, you can bridge the gap between supply and demand, and enable better decision-making for greater safety and productivity.
Empower Plant Safety And Productivity
Your workers operate in hazardous environments that are highly infused with flammable components. Although first to oil is a necessity, maintaining safety, health and the environment is non-negotiable.
We understand how important it is to have mission-critical communications that can withstand extreme temperatures, dust, noise, rain and toxic exposure. It's why we ensure our equipment meets intrinsic safety requirements, FM and CAS and specific Class levels.  
Improve Field Safety And Productivity
Our next generation communication solutions are vital for prospecting teams, especially those in remote and sensitive locales for exploration and extraction.
Send vital information, support in-field operations and keep connected with them, shore offices and overseas headquarters. More than a line of communication, each field worker's radio is their lifeline in hazardous areas. When you extend our always-available networks to the field, you improve safety and productivity.
Solutions
MOTOTRBO
Be safer, more efficient and more productive with the powerful digital performance and advanced capabilities of MOTOTRBO. No matter how large or small your enterprise, MOTOTRBO offers a wide range of systems specifically designed for your business – for the days ahead and the years beyond. You get the best of two-way radio with digital technology and enjoy integrated voice and data communication, increased capacity, enhanced features and exceptional voice quality, across the city and around the globe.
The Advantages Of Digital Radio
Advanced digital LMR systems efficiently control both the data and voice aspects of communication – increasing productivity and safety.
Digital radio technology surpasses the capabilities of analog in multiple ways:
Exceptionally clear voice communication and noise-canceling accessories ensure the message gets through the first time, even in noisy environments.
Integrated GPS location tracking to locate personnel at any given time, inside or outside the facility.
Systems are based on IP architectures with Ethernet interfaces, enabling easier integration with enterprise IT systems.
Longer battery life to last throughout lengthy shifts.
Greater capacity for hundreds or even thousands of workgroups.
Support for voice and data allows integrated applications such as encrypted communications, text messaging, work order ticket management, email gateways, dispatch consoles, remote system management, telephony integration and much more.
Seamless integration with the WAVE interoperability platform. This makes it possible for teams of people, in the field or in the office, to effectively communicate and collaborate through voice and data – securely, reliably and in real time. This can be achieved regardless of network, carrier, protocol or device; and whether deployed on-premise or in the cloud.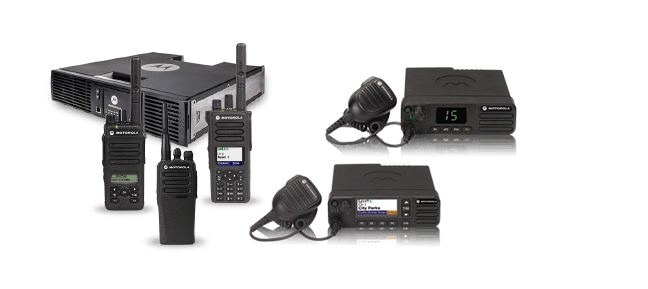 MOTOTRBO Systems
Systems Specifically Designed For Your Business

No matter how large or small your enterprise, MOTOTRBO offers a wide range of systems specifically designed for your business – for the days ahead and the years beyond. You get the best of two-way radio with digital technology and enjoy integrated voice and data communication, increased capacity, enhanced features and exceptional voice quality, across the city and around the globe.
IP Site Connect
Cost-Effective Coverage for Multiple Sites
Capacity Plus
Cost-Effective Coverage and Capacity for Single And Multiple Sites
Capacity Max
Coverage, Capacity and Control for Single and Multiple Sites
Connect Plus
Exceptional Coverage for Single and Multiple Sites
Read more about MOTOTRBO Systems
MOTOTRBO Applications
Increase The Level Of Efficiency, Safety And Productivity Throughout Your Enterprise

MOTOTRBO applications offer improved safety, accountability and productivity in a manufacturing environment. Work Ticket Management applications allow you to connect directly to your machines, automatically dispatching the right technician in response to failures. Technicians can also use their radios to send commands to equipment directly: opening gates, turning on lights and starting machines. Job ticketing gives you productivity and accountability improvements: using text-based dispatch reduces errors and allows timely escalation.
Voice Dispatch
Giving you centralized control of your workforce, these applications offer customizable user interfaces to allow your dispatcher to coordinate your staff efficiently and effectively. They also enhance business connectivity by allowing telephony interconnections and multi-system patching.
Work Ticket Management
These applications enhance efficiency and accountability in the workplace using text-based issue management software. They can be integrated with your existing work-order management solution or can be operated as an independent system.
Personnel Safety
Increase the safety and accountability of your staff by deploying these applications. Features such as Man Down and Lone Worker can be linked to indoor and outdoor location services for maximum effectiveness.
Learn more about MOTOTRBO Applications
MOTOTRBO Accessories
The Power Of Your Radio Unleashed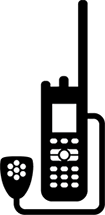 MOTOTRBO radios are already best in class, but to help you work at your best, you need enhancements targeted to your specific workplace. Motorola developed a line of accessories with unique features designed to optimize the performance of your radio in your work environment, unleashing the full power of the industry's most advanced digital radio platform. From discreet Bluetooth earpieces to efficient battery solutions, Motorola's complete portfolio of accessories optimizes the performance of your MOTOTRBO radio. They are designed to help you perform your best, wherever you work, and unleash the power of the industry's most advanced digital radio platform.
Earpieces
Headsets
Bluetooth® Wireless for Portable and Mobile Radios
Batteries and Chargers
Remote Speaker Microphones
Mobile Radio Microphones
Carry Solutions
Installation and Mounting Kits
Learn more about MOTOTRBO Accessories
WAVE™ Work Group Communications
Connect Anyone, On Any Device With Wave
WAVE Work Group Communications extends your radio's reach to those who may not carry radios. Now the telecom engineer away from the refinery or the IT director at a conference can talk on their smartphones or tablets with radio users.
WAVE connects smartphones, laptops, tablets, landlines and more on any public or private mobile data network, including Wi-Fi. You get seamless and secure connectivity, affordable push-to-talk, and the freedom to keep your service plans and devices.
Connect Your Networks
Connect disparate land mobile radio systems and remove barriers to interoperability and mutual aid. With WAVE, you can communicate with key work partners whether or not they are on a Motorola radio system for better real-time coordination and response.
Extend Your Communications
Extend communications beyond radio to include broadband devices and networks, ensuring greater workforce connectivity and interoperability. WAVE connects your smartphones, computers, radios and more onto a single platform so you can freely communicate and collaborate on the device that suits you best, from virtually any location.
Embrace Broadband
Secure, over-the-top PTT on public or private broadband networks provides greater device, network and use-case flexibility. All your teams can connect instantly on the broadband devices they're already using, plus WAVE offers the ability to integrate with other networks when needed.
The New Voice Of The Enterprise: Broadband Push-To-Talk
The revolution is being push-to-talked about. Today, virtually everyone can benefit from push-to-talk (PTT) across their organization.
Download the White Paper
Petrochemical Companies Trust Motorola To Mobilize Real-Time Information Seamlessly
From the drilling platform to the pipeline, in the office or offshore, Motorola is helping oil and gas companies work more safely, productively, and efficiently in the most difficult conditions and demanding environments.
Enterprises around the globe are transforming the way they operate and interoperate with our mission-critical communication solutions and expertly-integrated systems, applications, accessories and services.
Connect different personnel, processes and locations together to help your operation run more productively and safely, control infrastructure, and reduce risks and costs.
Downloads
Application Briefs/Fact Sheets
Brochures and Spec Sheets
MOTOTRBO
MOTOTRBO Accessories
WAVE Work Group Communications
Presentations
Videos
White Papers
MOTOTRBO
WAVE Work Group Communications