Retail Solutions

Elevate The Customer Experience With Seamless Communications
Create a positive shopping experience for your customers with well informed and coordinated staff. Improve communications between store associates and managers to create real-time flow of information and turn shoppers into loyal brand advocates.
Extend the benefits of real-time communications into your warehouse and distribution centers, creating an efficient operation that delivers the highest level of customer satisfaction.
Create An Engaging Experience For Every Shopper
Retailers are under greater pressure than ever. They must do more with less on tight margins while they evolve their technologies. Their staff must be well-informed and well-coordinated in their stores, armed with the right information to satisfy customers.
Whether it's a question about a product or a request for a different size, shoppers expect retail associates to be empowered with accurate answers and attentive service. Above all, stores need better technologies to deliver a seamless experience for shoppers to keep them coming back.
When retailers create an engaging experience, they turn interactions into transactions and occasional buyers into loyal brand advocates.
Connect Staff To The Right Communications For Real-Time Information
When retailers equip their stores with the right communications technology, they create a real-time flow of information between associates and managers. Rather than leaving a customer's side to search for inventory, staff can get the answers they need quickly and easily on the spot. If a spill occurs in an aisle, instead of broadcasting over an intercom or physically tracking down help, the right staff member can be alerted discreetly to resolve the problem.
By connecting employees throughout their establishment, retailers improve the quality of the experience and customer service while boosting sales. Shoppers agree – nearly 50 percent say technology enabled associates improve their experience.
Today's consumers have many choices when purchasing goods and services. This competition drives retailers to ensure that customers are satisfied with their buying experience the minute they walk through the door.
Staff Communications And Management
Respond to customers quickly, create cohesive teams, check inventories instantly and accelerate re-stocking with seamless connectivity.
When staff and sales associates are empowered and informed, you elevate service to a higher level.  Supervisors equipped with the right technology can manage employees and operations more efficiently. Store managers can access the real-time information they need to ensure customers are attended to and requests are met.
Lightweight, discreet communication solutions that fit your environment and employees make the difference between seamless service and dissatisfied customers.
With long shifts, high turnover, tight margins and tough competitors, keeping your teams connected discreetly, affordably and efficiently is more important than ever.
Motorola Solutions' lightweight, comfortable radios with clear audio, continuous coverage and long battery life streamline in-store communication. Whether your staff is supervising associates or assisting shoppers, they can improve the experience with real-time information, right when it's needed.
Customer Safety And Security
Strengthen security throughout the store, keep your customers and employees safe, and react swiftly when urgent situations occur.
Your employees must communicate quickly and quietly when incidents and accidents happen, and you must be confident that shoppers and staff are protected. Whether mopping up a spill or monitoring suspicious activity, your teams need timely information. 
By giving employees the right devices, they can act professionally and effectively when a situation unfolds. Motorola's radios with clear coverage in buildings, hands-free accessories, and leading applications help keep your store safe. 
Increase your situational awareness and send the right employees to the right location with the touch of a button. Our products are specifically designed to empower your business with clearer voice, real-time information and discreet communications so that you can collaborate like never before.
Warehouse And Distribution
Connect every worker so you can streamline and automate your processes, better manage risk and respond to customers quickly.
Motorola's multi-purpose two-way radios, accessories, and industry-leading applications ensure teams can communicate clearly and reliably, from the line to the loading dock. Our business-critical applications are designed to streamline production and distribution in noisy, fast-paced environments.
You can run warehouse operations safely and seamlessly while meeting the most demanding deadlines with a communication solution adapted to your needs.
Motorola Solutions' next-generation solutions connect workers clearly and safely, even in the loudest places. High-performing digital radios and accessories eliminate noise in the background and automatically adjust volume to match noise levels. When talking is not feasible, teams can communicate safely with text messaging.
Now you can create an environment where orders are fulfilled rapidly, products are shipped efficiently, and workers feel confident they are safe.
Fleet Management
Ensure a smooth flow of finished goods and improve supply chain visibility so you can deliver to customers on time.
Motorola Solutions' next-generation solutions help you optimize your vehicles to service the supply chain and ultimately, your customers. Applications that track vehicles and shipments enable more on-time and accurate deliveries, all while improving safety and complying with regulatory requirements. Drivers are safer, costs are lower, and customers are satisfied.
High-performing digital radios and accessories eliminate background noise and automatically adjust volume to match noise levels, whether it is heavy traffic or high decibel equipment. When talking is not feasible, your fleet can communicate when convenient with text messaging. And with hands-free features, you have greater safety in the driver's seat.
You'll have a next-generation communication solution designed for your needs. So your operation can meet its deadlines safely and efficiently.
Solutions
MOTOTRBO Digital
A Perfect Fit For Diverse Retail Demands
Two-way radios are the go-to technology for enterprises around the world – connecting people wherever they need clear, instant and reliable communications. MOTOTRBO offers a portfolio of analog and digital two-way radios that enable voice and data communications. It combines the best of two-way radio functionality with the latest digital technology for instant communicating, easy decision-making and seamless coordinating.
MOTOTRBO brings all the benefits of push-to-talk communications in an incredibly powerful tool that takes productivity, efficiency and safety to a whole new level. MOTOTRBO is truly the next-generation of business communications.
Learn How Retailers Are Using Mototrbo To Coordinate Operations Throughout The Store Environment

Cashiers
Easily get a price check, thus moving customers quickly through the checkout line.
Staff
Efficiently contact departments to identify the right products for a customer.
Managers
Quickly make a direct call to a staff member to request backup support.
Security
Effortlessly and discreetly contact a manager to diffuse a potential issue.
MOTOTRBO Systems
Systems Specifically Designed For Your Business

No matter how large or small your enterprise, MOTOTRBO offers a wide range of systems specifically designed for your business – for the days ahead and the years beyond. You get the best of two-way radio with digital technology and enjoy integrated voice and data communication, increased capacity, enhanced features and exceptional voice quality, across the city and around the globe.
Direct Mode & Conventional
Baseline Single Site Coverage and Capacity
IP Site Connect
Cost-Effective Coverage for Multiple Sites
Capacity Plus
Cost-Effective Coverage and Capacity for Single And Multiple Sites
Capacity Max
Coverage, Capacity and Control for Single and Multiple Sites
Connect Plus
Exceptional Coverage for Single and Multiple Sites
Read more about MOTOTRBO Systems
MOTOTRBO Applications
Increase The Level Of Efficiency, Safety And Productivity Throughout Your Enterprise

MOTOTRBO applications offer improved safety, accountability and productivity in a manufacturing environment. Work Ticket Management applications allow you to connect directly to your machines, automatically dispatching the right technician in response to failures. Technicians can also use their radios to send commands to equipment directly: opening gates, turning on lights and starting machines. Job ticketing gives you productivity and accountability improvements: using text-based dispatch reduces errors and allows timely escalation.
Fleet Management
Track your vehicles and your staff for improved safety, security and accountability. These applications allow you to make the most of MOTOTRBO's GPS capabilities, and some even offer indoor location tracking capabilities.
Text Messaging And Email
Enhance productivity by connecting your radio network with your text and email system. Allow your staff to use advanced work order ticketing solutions, or simply streamline the flow of information between office and shop floor.
Voice Dispatch
Giving you centralized control of your workforce, these applications offer customizable user interfaces to allow your dispatcher to coordinate your staff efficiently and effectively. They also enhance business connectivity by allowing telephony interconnections and multi-system patching.
Learn more about MOTOTRBO Applications
MOTOTRBO Accessories
The Power Of Your Radio Unleashed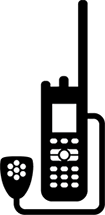 MOTOTRBO radios are already best in class, but to help you work at your best, you need enhancements targeted to your specific workplace. Motorola developed a line of accessories with unique features designed to optimize the performance of your radio in your work environment, unleashing the full power of the industry's most advanced digital radio platform. From discreet Bluetooth earpieces to efficient battery solutions, Motorola's complete portfolio of accessories optimizes the performance of your MOTOTRBO radio. They are designed to help you perform your best, wherever you work, and unleash the power of the industry's most advanced digital radio platform.
Earpieces
Bluetooth® Wireless for Portable Radios
Batteries and Chargers
Remote Speaker Microphones
Carry Solutions
Learn more about MOTOTRBO Accessories
When Retailers Rely On Motorola, They Transform Customer Service
In retail, the shopper's experience is everything. It's how browsing becomes buying, customers become brand advocates and how retailers influence the purchase path. By seamlessly connecting different teams and departments you help your operations run smoothly, and provide excellent service to the customer the minute they walk through your door.
With Motorola's communication solutions you can engage with your shoppers and keep them coming back. Motorola's radios and accessories have been specifically designed to meet the needs of your staff. Lightweight and discreet they ensure crystal clear and real-time communications and let you deliver exceptional customer service.
Contact Us for a Free Trial or More Information on How Our Solutions Can Elevate Your Customer's Experience with Seamless Communications.
Downloads
Application Briefs/Fact Sheets
Brochures and Spec Sheets
MOTOTRBO
MOTOTRBO Accessories
WAVE Work Group Communications
Case Studies
Presentations
Videos
White Papers
MOTOTRBO